Chainsaw was raised with her sister, Angelica Dante, on a cornfield in Kingsland, Texas. However, when asked about her life on the farm, Chainsaw only remembers two things– her sister, and the darkness.
As punishment for being a naughty, wicked girl, Chainsaw's daddy took actions to ensure that she would not be a danger to herself or others. But, after Momma met an untimely end in a freak farming accident, Chainsaw began doubting Daddy's judgment. That was when the screaming started– Chainsaw began having what Daddy called 'episodes'. 
In secret, Angelica would sneak into the basement to visit Chainsaw. Angelica always told her that she was special and that one day, they would sneak away together and lead exciting lives in the big city. 
It was a cool summer night when that day finally came. After tying up a few loose ends at the farm, the sisters started their new adventure. Now, having made their way to WOW, Angelica and Chainsaw are enjoying their new home.
While Chainsaw may not have a lot to say, she understands what it is to triumph over those who would try to keep her down. When the jacket comes off, she will do anything to make her beloved sister Angelica happy.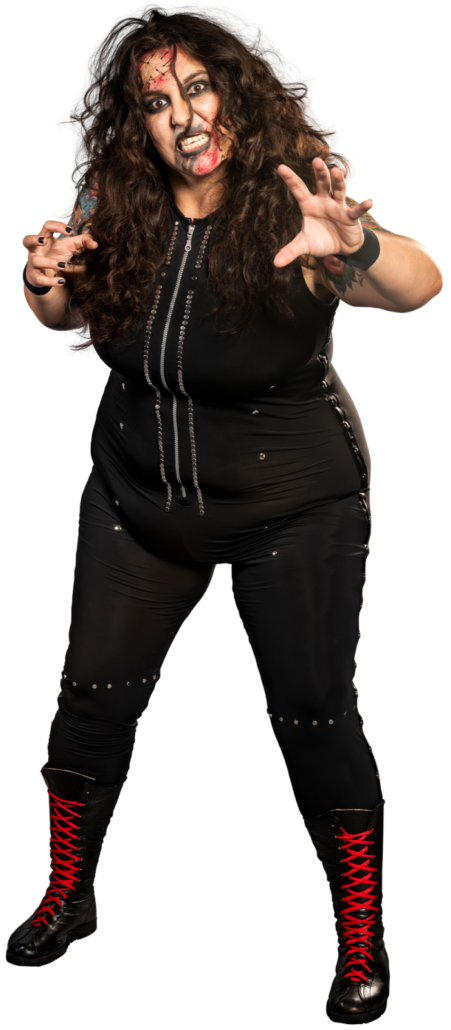 Cornfields of Kingsland, Texas
Chainsaw feels safe in her jacket.
"That's my JAM!", "Let's turn it up!", "It's lit!"
Favorite event is the Electric Daisy Carnival in Las Vegas.