WOW WORLD TAG TEAM CHAMPION
Like an unquenchable flame, Fire strives for her dreams, letting nothing stand in her way. Born in Atlanta, Georgia, Fire grew up obsessed with becoming a wrestling star. But her parents forbade her from even watching wrestling. So she watched it in secret, even going so far as to trick her parents into thinking she was attending college, but secretly training at a wrestling school instead.
It was there that she had the epiphany that led her to become "The Girl Aflame". Burned alive by the fierceness of training, with a heart aflame she let herself become fully engulfed in her love of wrestling, emerging anew like a phoenix from the ashes. Fire's old life was left in smoke.  
Baptised with her new name and purpose, Fire entered the WOW – Women Of Wrestling roster, where she found a partner in Adrenaline. The two forged a fast friendship that would carry them to the top of the WOW Tag Team Championship tournament – where they faced seemingly unstoppable odds in the form of Havok and Hazard. Shocking the WOW world, Fire and Adrenaline won the day, becoming the new WOW Tag Team Champions. But their victory was short lived, as every other team in the WOW roster seeks to unseat the pair. Will their bond prove unbreakable?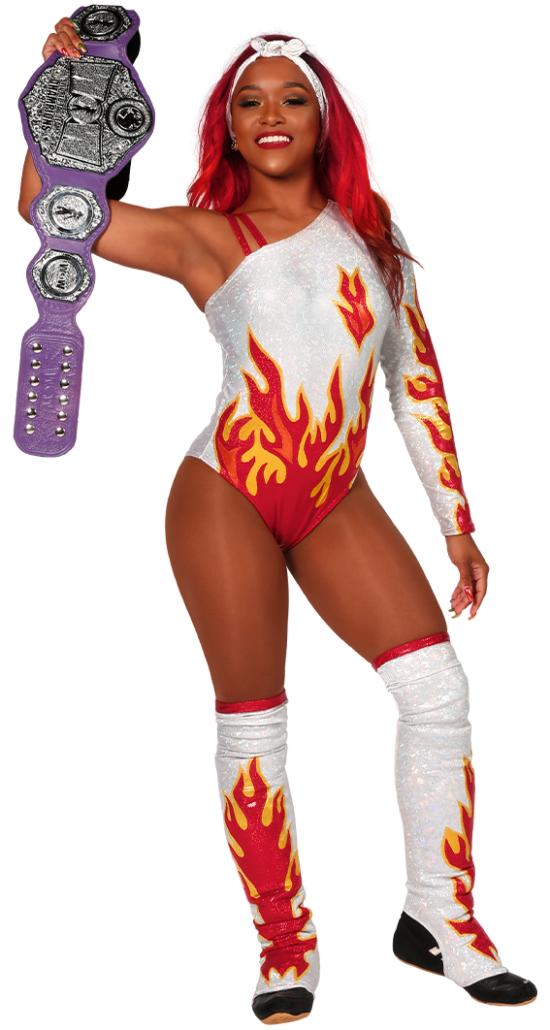 Fire is athletic and versatile in the ring.
Pro Wrestling, Taking risks
Being cold, Cardio, Naysayers
Despite her big personality, Fire is only 4'11".