Hailing from Virginia, The Dixie Darlings Jolynn and Jolene claim they've been fighters ever since they were "womb-mates".
While pregnant with the twins, their mother was held at gunpoint and shot. The bullet was inches from hitting the two and they were born pre-maturely at six months, spending their first weeks in an incubator. But that didn't stop the infectiously cheerful Jolynn and Jolene from growing up healthy as horses!
They gained their tomboy ways from their older brother, who decided he didn't want sisters and raised them like they were his brothers, teaching them to fix cars, shoot guns and scrap. Patriotic and dixie proud, the twins planned to join the Army after high school, but were stopped by their mother, forcing them to find a different path in life. With only $2,000 in their combined pockets, the two well-mannered and strong principled dixie girls made their way all the way to California to join the WOW – Women Of Wrestling training school. There they were discovered by Selina Majors, the WOW trainer (and a southerner herself) who realized the Dixie Darlings had the kind of fire and can-do, positive attitudes missing in the world of pro-wrestling today.
Though they sometimes face backlash from people who judge the twins on their looks, the two know who they are in their heart and soul: two proud southern girls who say "yes ma'am" and "yes sir," who believe in hard work and living off the land, and who just want to have a good time! Will they find their place in WOW, or will they be corrupted by the world of showbiz?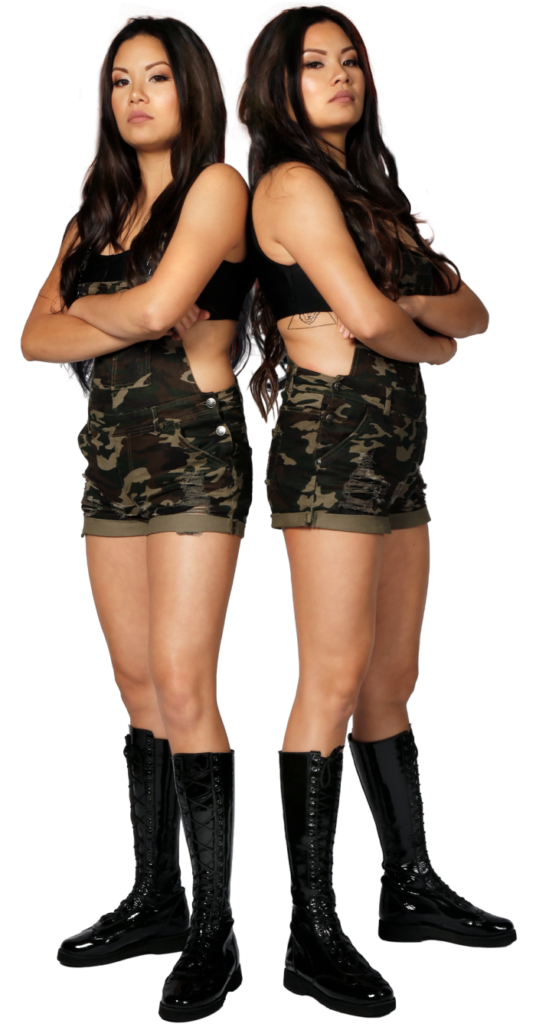 The Dixie Darlings work as a team to take out their opponents!
Guns, Dogs, The Great Outdoors, America
Sensitive people, Whining, Litterers
"Don't mistake my kindness for weakness.", "No dream is too big!"
Before becoming wrestlers the Dixie Darlings were automotive technicians. Jolynn became a certified Audi technician and Jolene became a certified Porsche technician.