Raised by a single mother in Boston, Massachusetts, The Sassy Massy had to fight everyday to maintain her positive mindset and to reach for her goals. Due to her mother's struggle with depression and more, Sassy didn't have a typical childhood. She was raised in the wrong part of town, but refused to give in to the temptations and vices she saw around her.
In high school, pro-wrestling became her escape. No matter how bad things got back home, wrestling shows were the place she could go and be herself and forget about her troubles. She was transported into the stories and fates of the characters she watched battle it out week after week. She helped with the shows in any way she could, running concessions and other tasks behind the scenes.
It only made sense that Sassy would begin her own wrestling training as soon as she turned eighteen, and she excelled, becoming a positive role-model for other young women as she rose to prominence in the wrestling world.
Now The Sassy Massy takes on WOW – Women Of Wrestling, pitting herself against some of the greatest women wrestlers in the world to show that a positive mindset and hard work can lead anyone to the top.
Family means the world to this sassy Bostonian and that includes her husband and her children as well as her wrestling family. Will WOW become yet another family for this newcomer, or will she find she has no one to rely on but herself?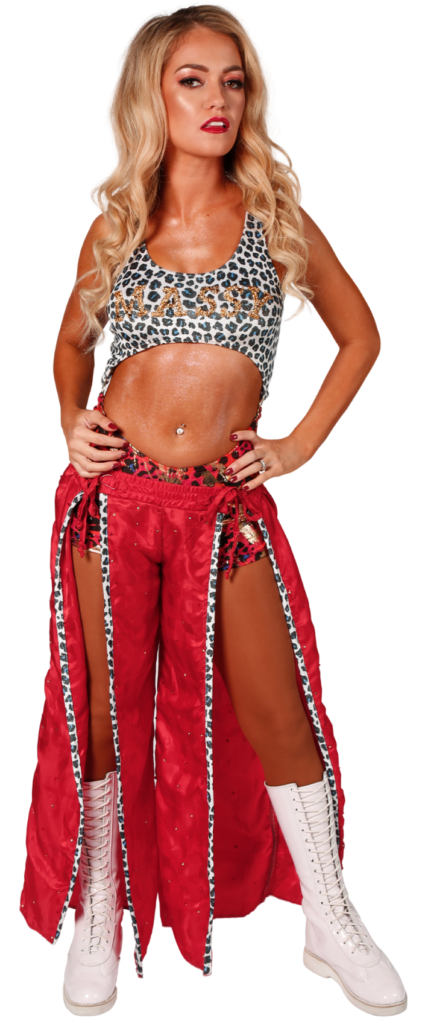 Sassy uses a combination of street smarts and whatever else it takes to win
Haters, People who take advantage of others